FormBot T-Rex 2+ 3D printer
independent dual extruder extrusion (

IDEX

) Large Format

400

x

400

x

500

mm High Temp & Laser Engraver
Free shipping & Free 3D Filaments voucher of our Chromafil 3D printer Filaments!
Professional 3D Printer Top Features:
400x400x500mm Print Bed Surface Build Platform Size

Independent Dual Extruder 3D printer (IDEX) 260°C


Extruder Nozzle Wiping System

Quick-replaceable change Swappable Print Cores Hotends

BLTouch Automatic Mesh Multi-Point Bed Leveling Sensor System

Dual Zone Heated Print Bed (Optional) 

High-temp. 350°C Extruder Hotend (Optional) 

Laser Engraver (Optional)

Industrial Grade Ball Bearing Linear Guide

Industrial Grade TBI Ball Lead Screw

Print Bed LED Lighting
T-Rex 2+ 3D printer comes mostly assembled, it only takes 10-15 minutes to complete assembly.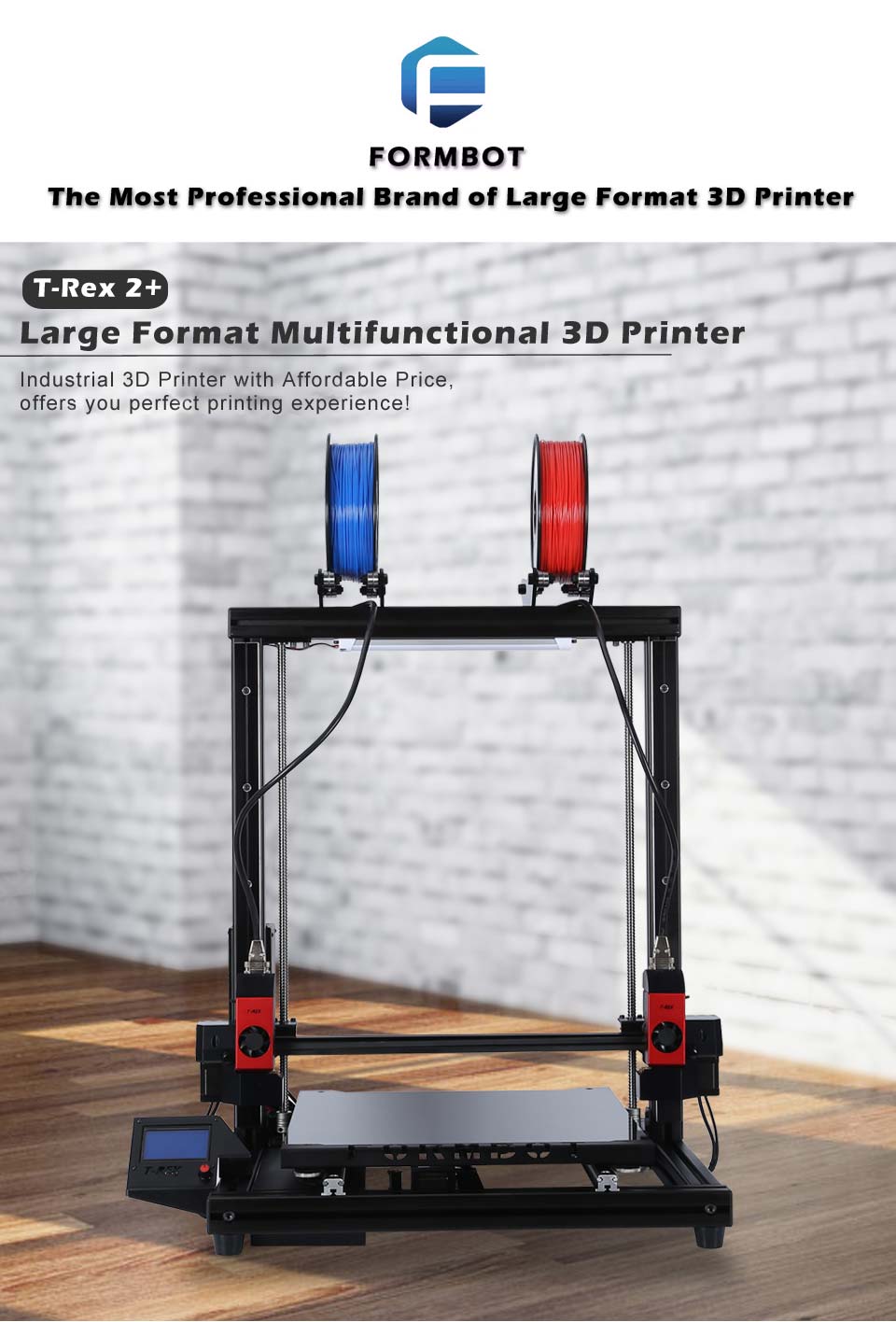 Before Order, Please Kindly Check Below Price List for Different Configurations:

See details below.
---
Independent Dual Extruder IDEX
Three 3D printing modes:
1. Single Extruder Mode: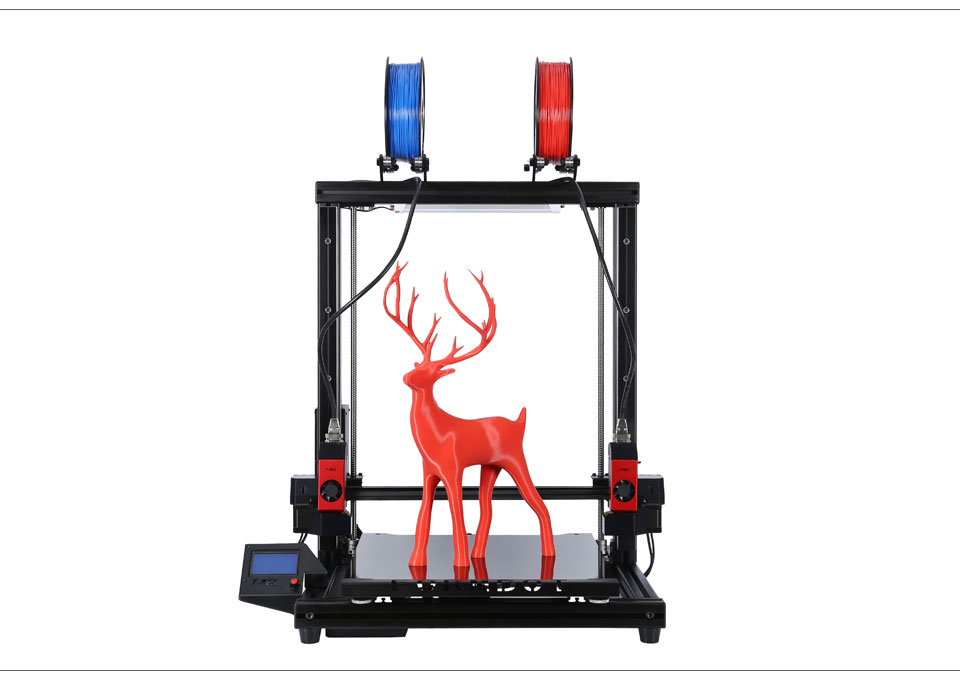 2. Independent Dual Extruder Mode:
3D Print high quality dual color & multi-material objects without the need for an ooze shield surrounding the part!
The dual extrusion FormBot T-Rex 2+ 3D printer feature allows each extruder to move separately and independently on the X axis.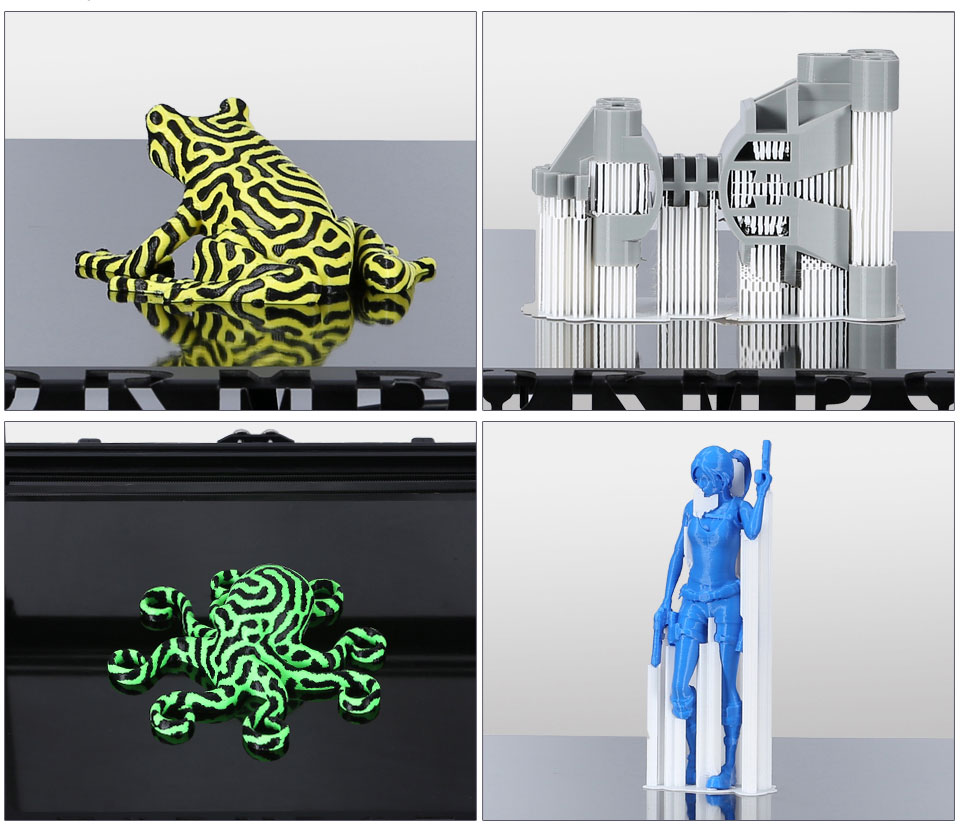 3. Duplicate Mode enhances mass production
This dual extrusion 3D printer mode allows the FormBot T-Rex 2+ to print many objects at once all over its large print bed.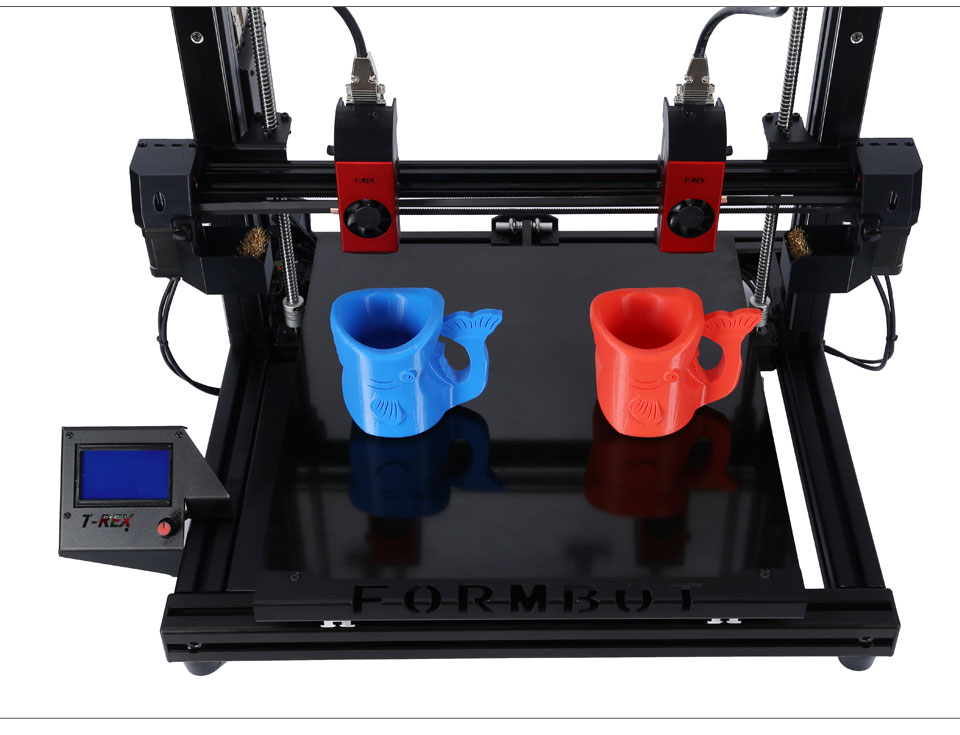 TBI Ball lead screw and Ball bearing linear guide rails
Quick-Change Swappable Print Cores Hotends & Nozzles 3D printer (Optional)
You may install different nozzle diameters to this FormBot T-Rex 2+; like a 0.4mm stainless steel nozzle to one extruder and a 0.8mm brass nozzle to the second independent extruder, for example. They are sold separately (ask us about them).
You may also have an extruder set at the temperature to 3D print POM while the second extruder hotend is set to the temp to print support material.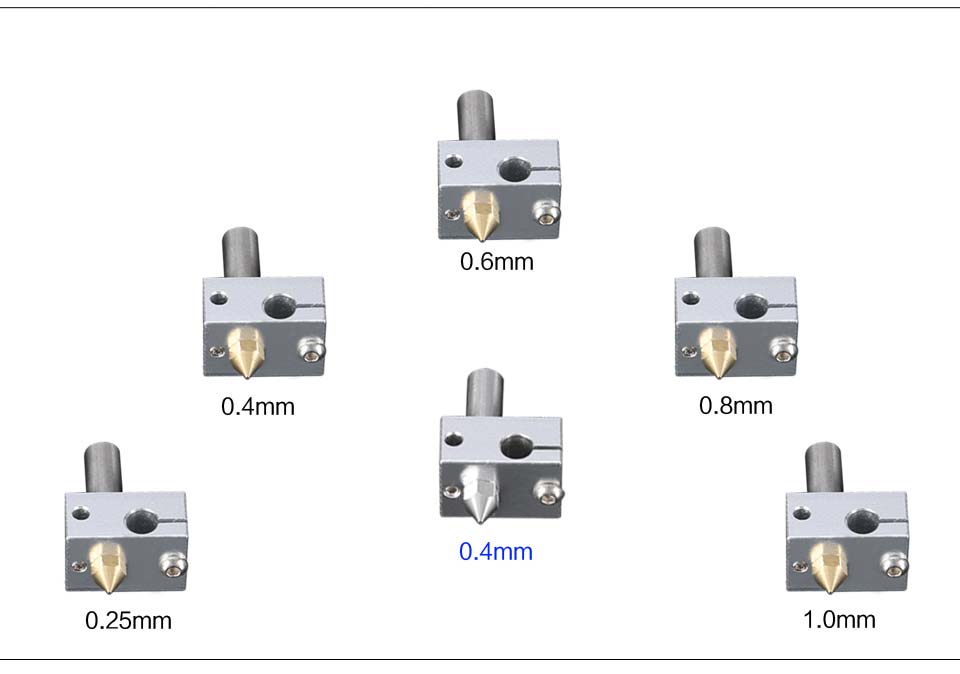 BLTouch Multi-Point Automatic Mesh Bed Leveling Sensor System
The FormBot T-Rex 2+ 3D printer is equipped with this auto print bed leveling system, using a BL Touch sensor, probes a 225 points mesh over the entire print surface of the platform. The recorded mesh of points is stored in the Eeprom of the 3D printer. You should only need to run this multi-point automatic bed leveling procedure once, before the very first print.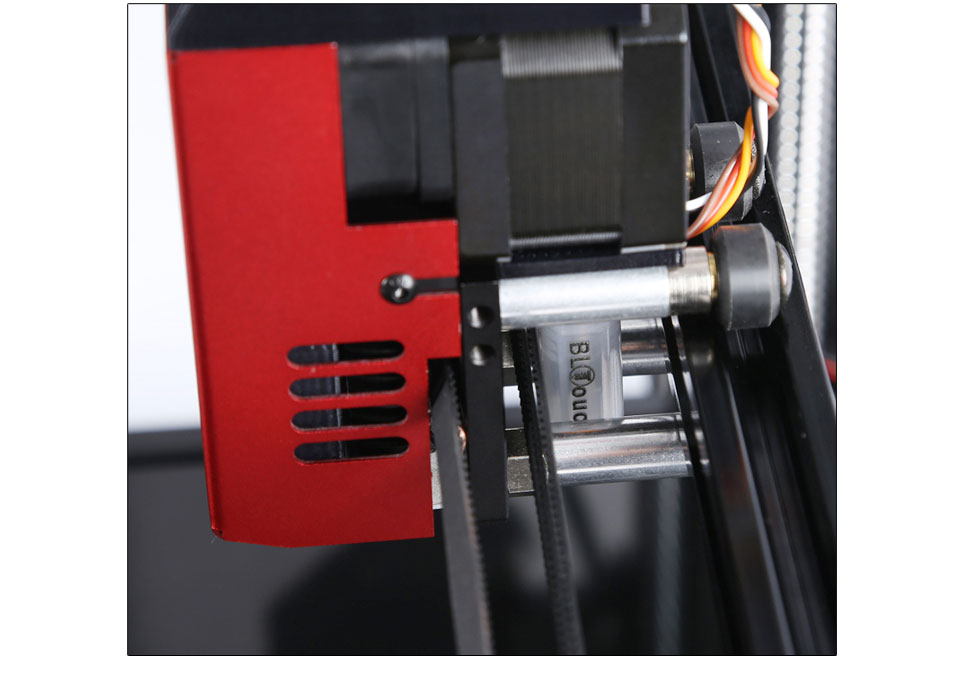 Extruder HotEnd Nozzle Brush Wiping System
Before one of the multi independent extruder (IDEX) begins to print, its hotend nozzle gets cleaned by automatically wiping through a brush.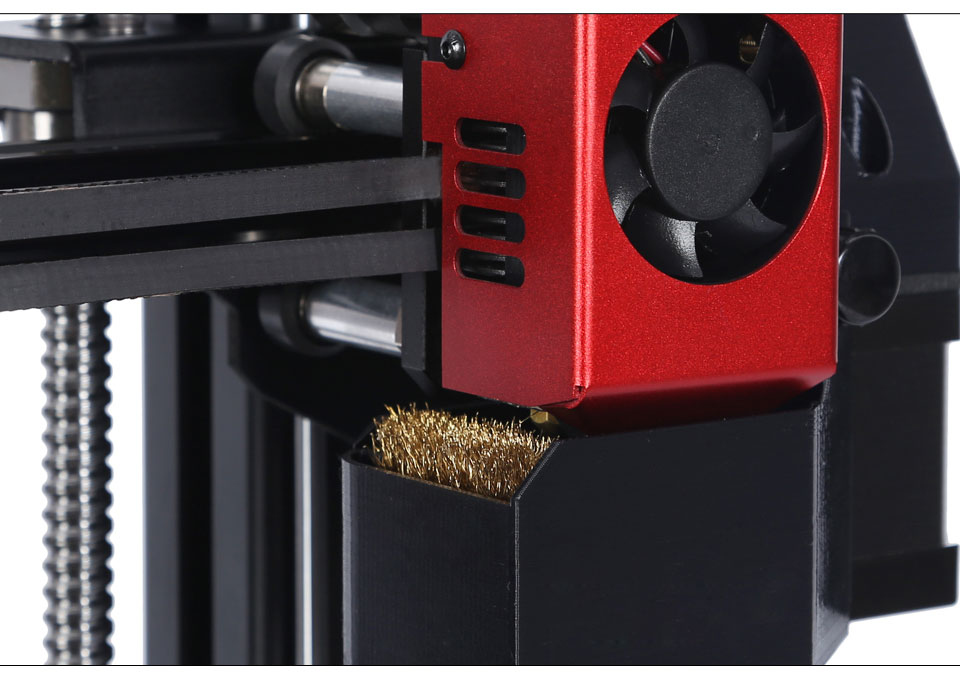 Large Dual Zones Heated Print Bed 200mm & 400mm Surfaces (Optional)
The FormBot T-Rex 2+ optional large dual zones heated print bed is highly recommanded to avoid many 3D printing, as wraping of medium to large prints. A heatbed is critical when 3D printing polymers as: ABS, PETG, PA Nylon, HIPS, PP, PC, ASA, PEI Ultem, etc. This industrial grade heating pad has two heating zones or areas over its printing surface:
+ 200mm x 200mm &
+ 400mm x 400mm surfaces.
The outer area can be turned off if you are printing smaller objects or turn it on to print large objects. This allows you to save electricity. This professional and dependable dual zones heat bed is also equipped with:
+ A Digital Controller (°C/°F) that plugs directly into the wall outlet
+ An integrated Timer
+ It is possible to buy a SSR addon that allows to control this heated bed from the gcode. Ask us about it.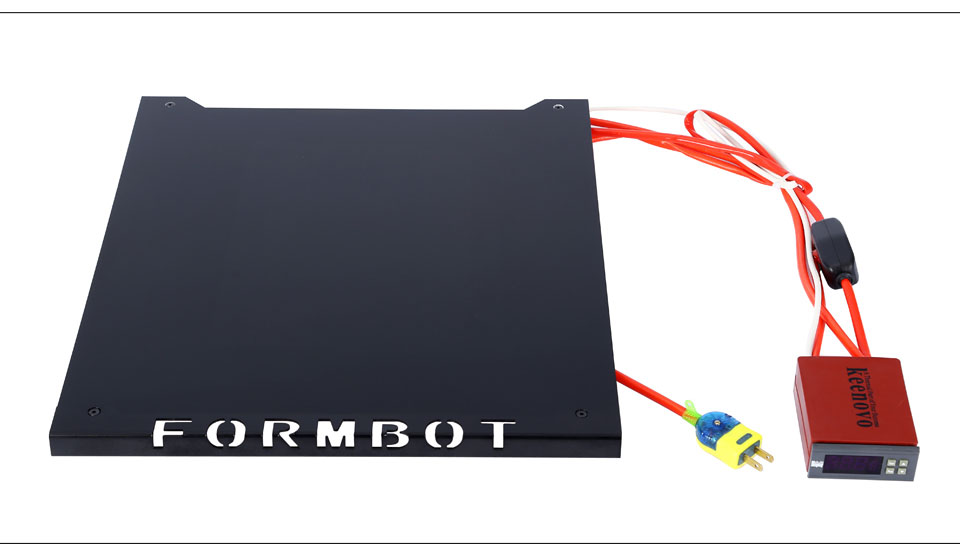 High Temperature Extruder HotEnd (Optional)
This high temp extruder hotend, of this 3D printer, can reach 350 °C, allowing to print PA, PC-ABS, ASA, PP, PC and possibly feed PEI Ultem and maybe even some PPSF/PPSU, PSU and other high temp polymers to this FormBot T-Rex 2+ 3D printer, equipped with the heat bed & high temp hotend options. (This high-temp extruder option is for 1 extruder.)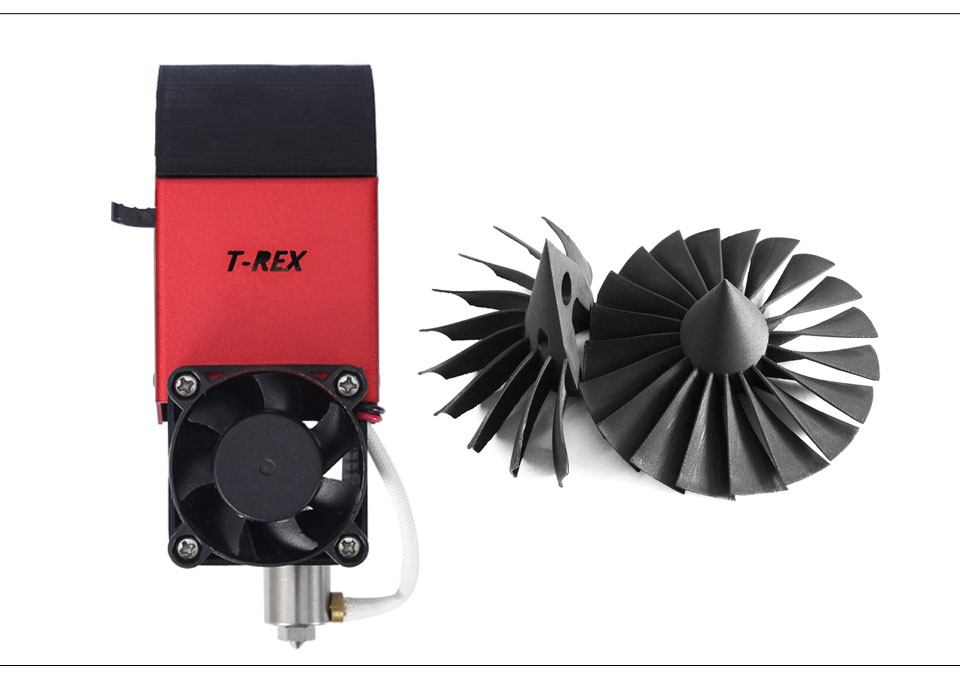 Laser Engraver (Optional)
The laser engraving optional attachment, of this 3D printer, can engrave paper, wood, PMMA acrylic and even some fabrics.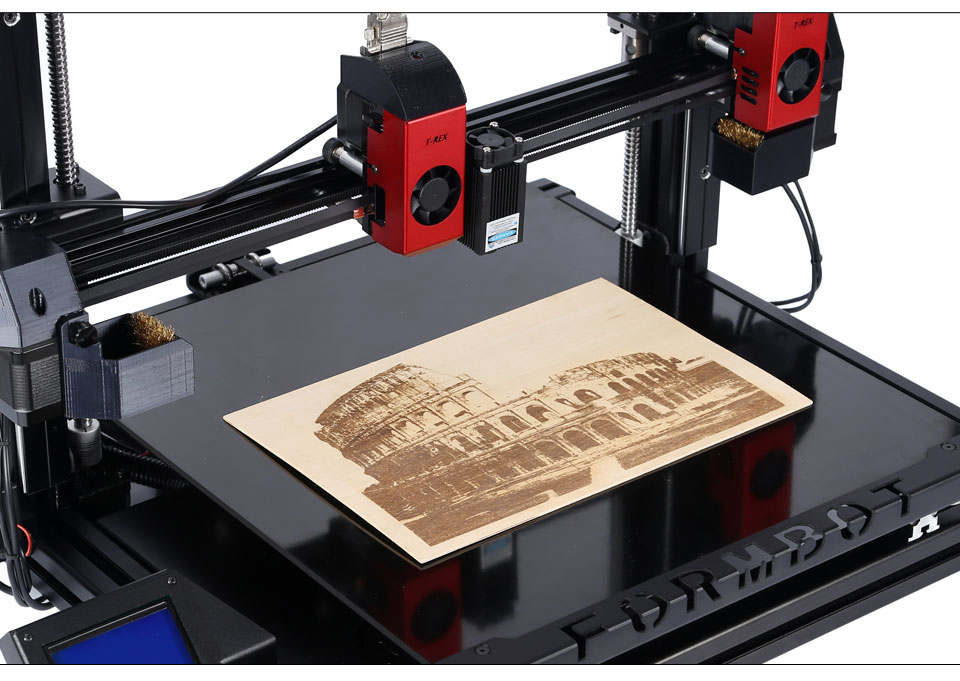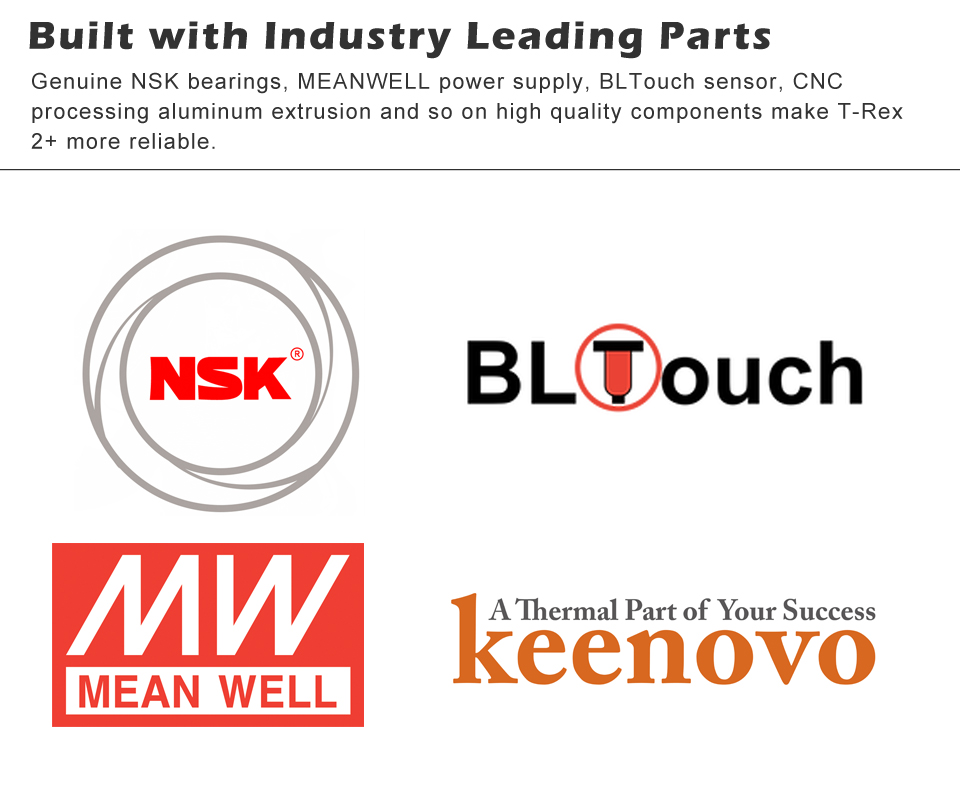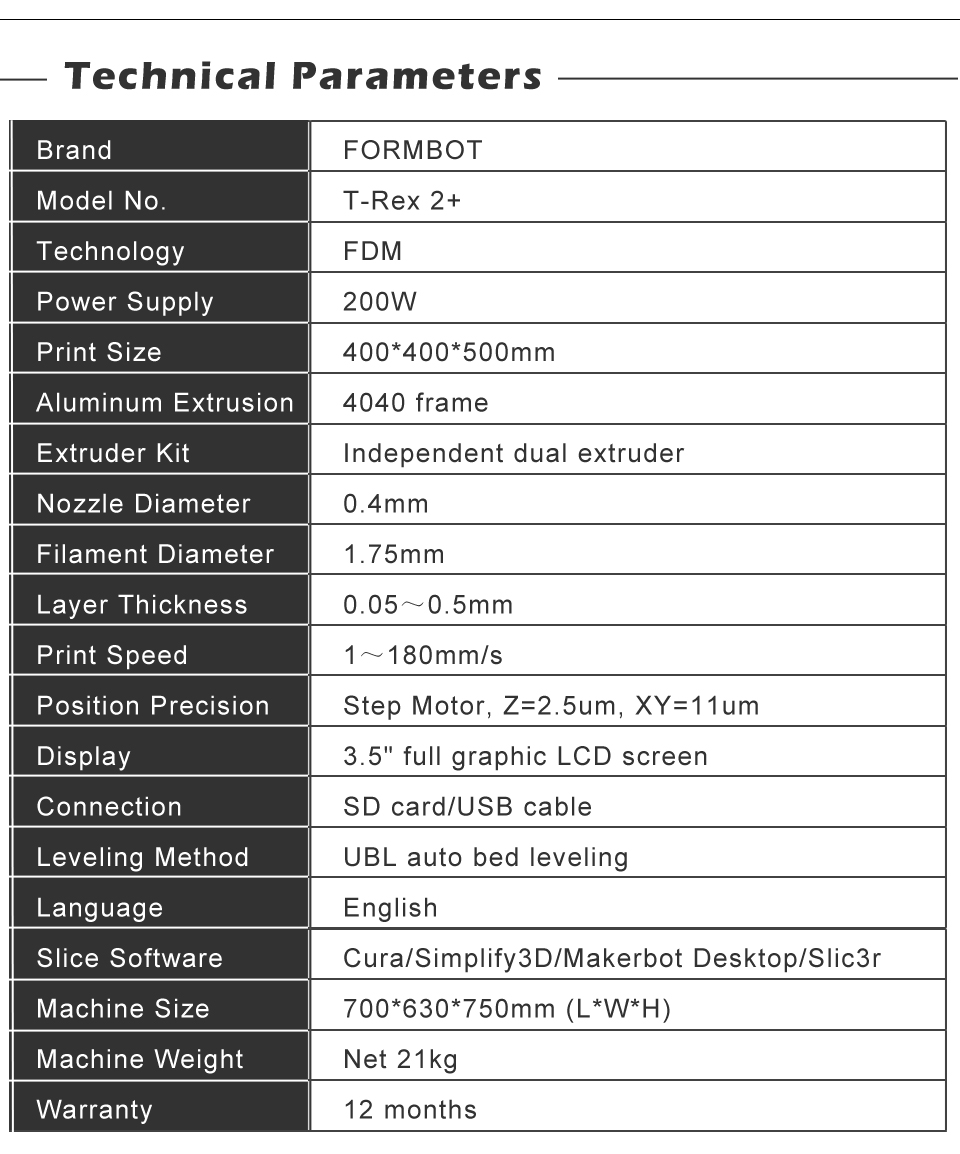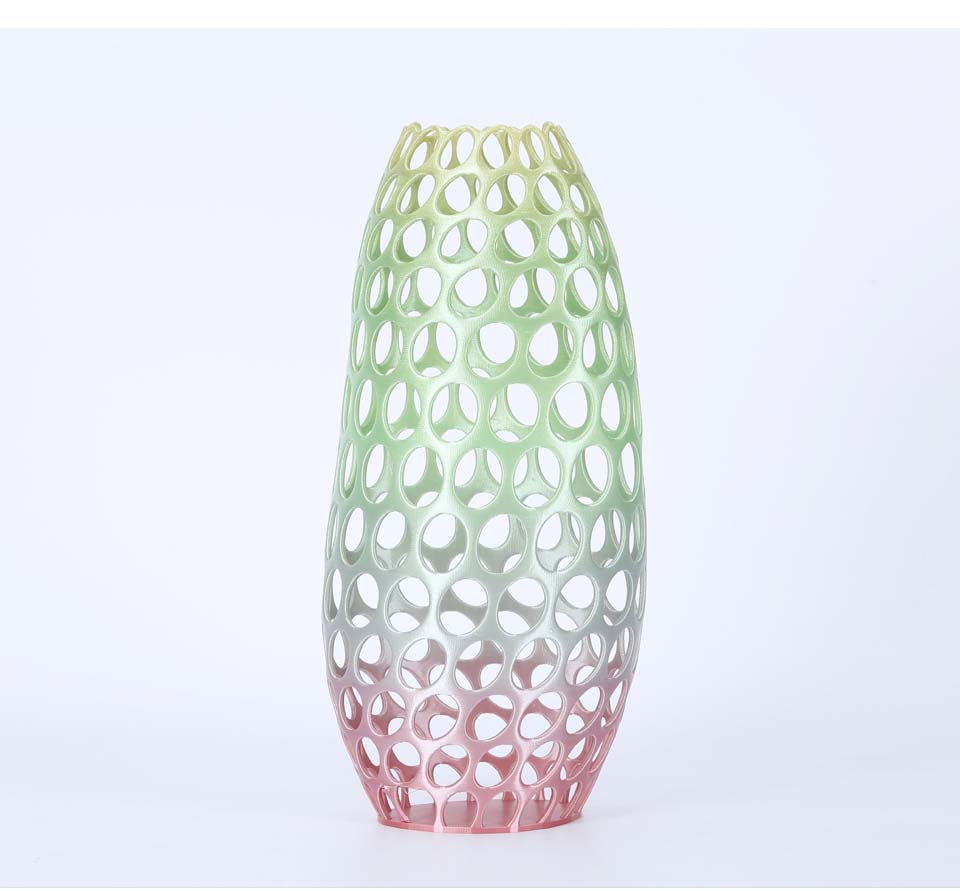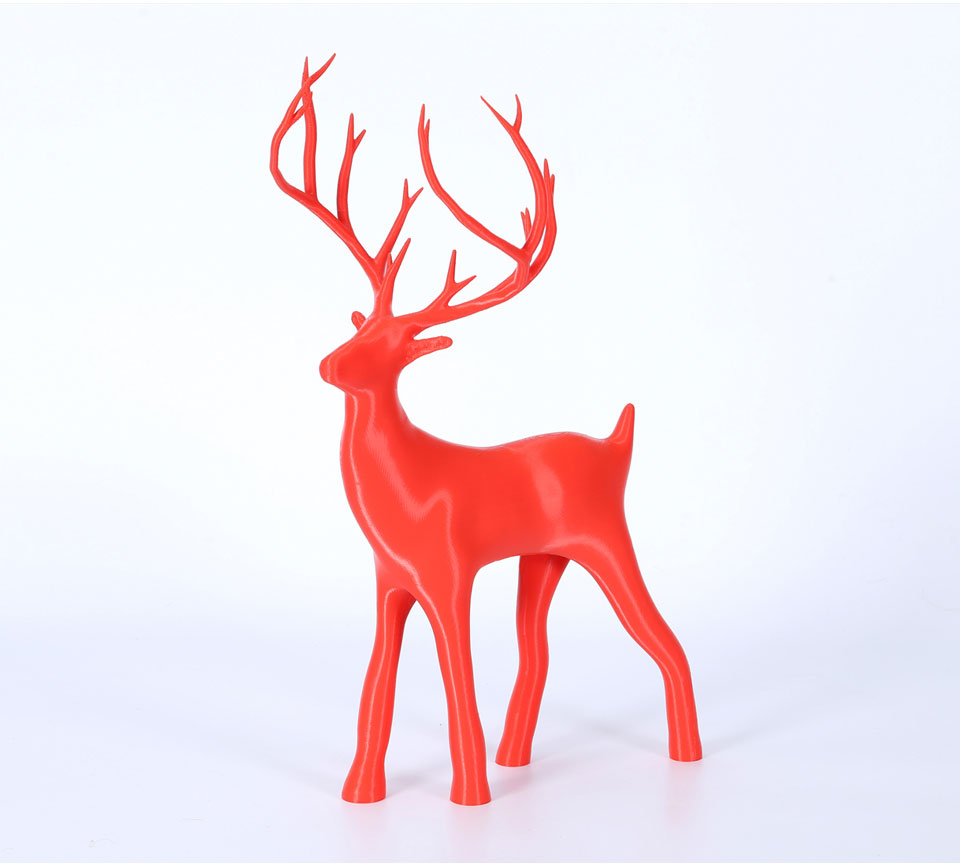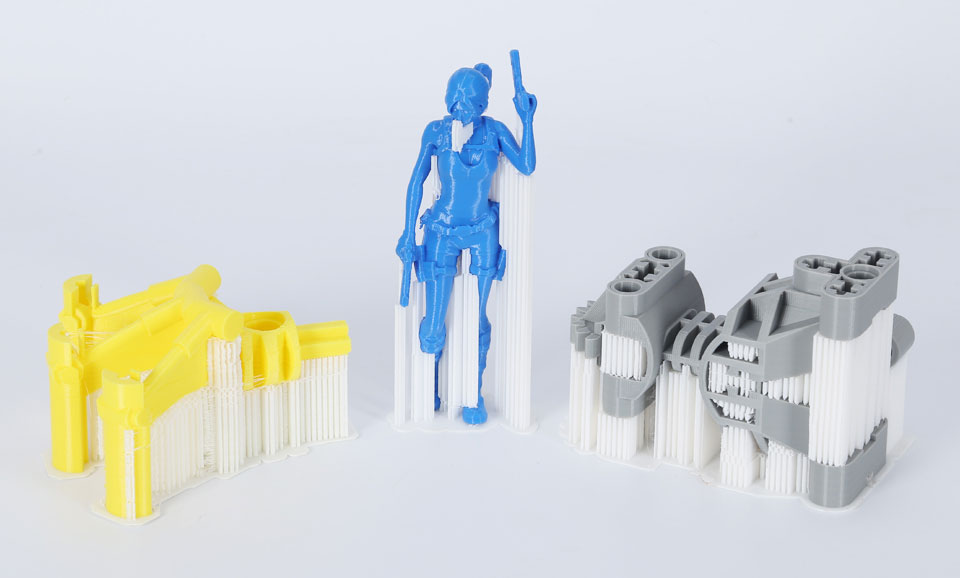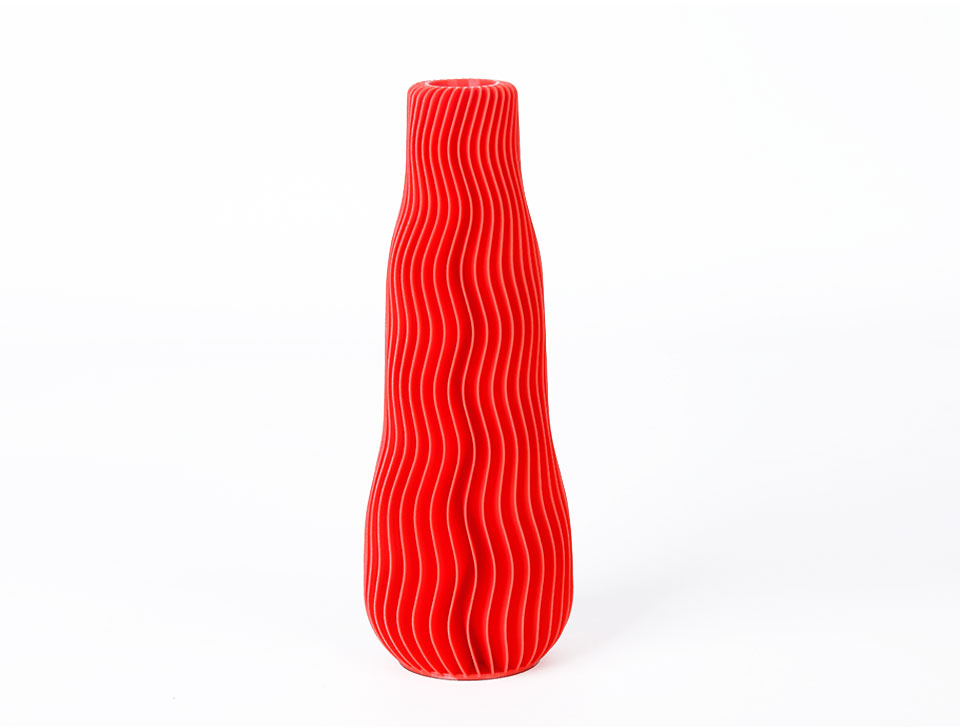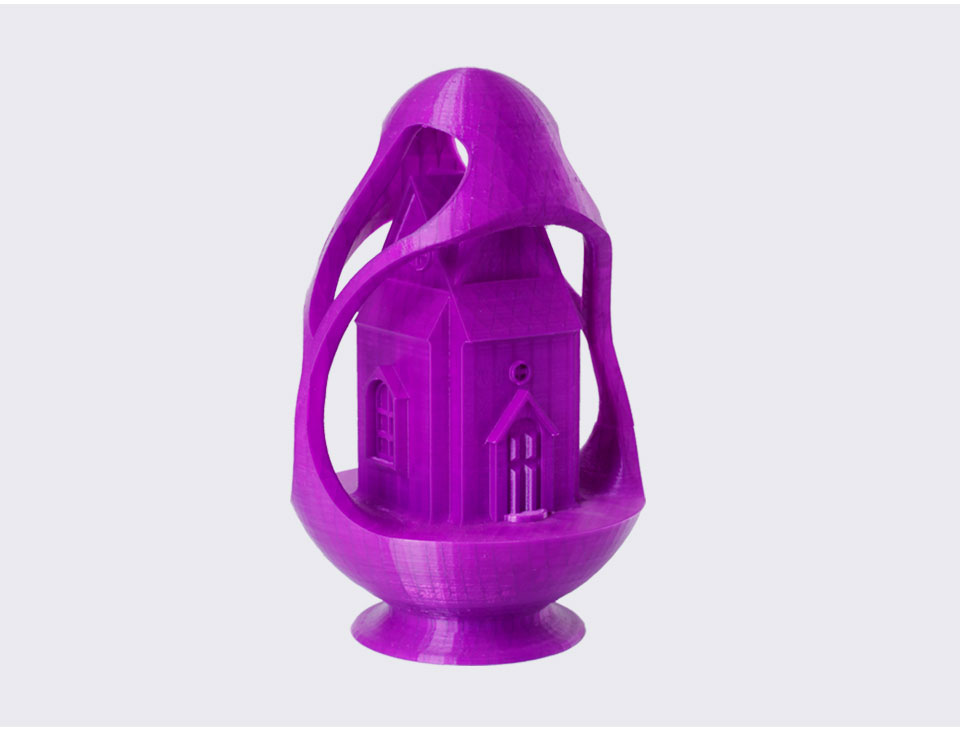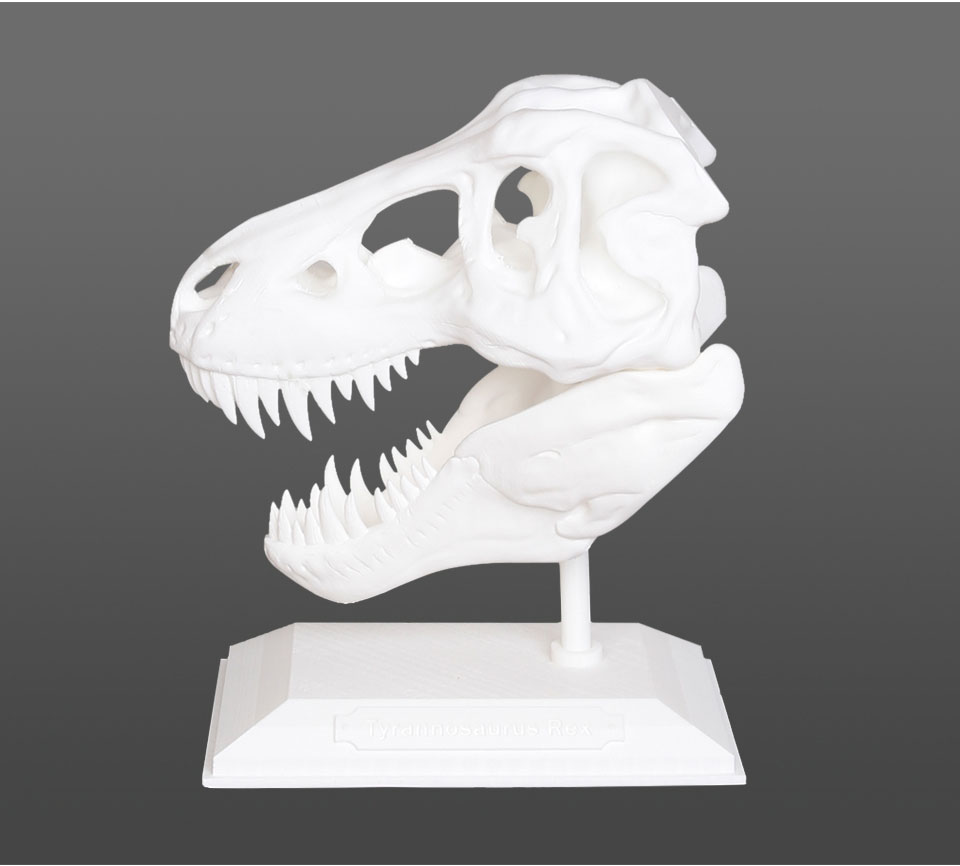 ________________________________
FAQ:
​
1. What's the nozzle size of FormBot T-Rex 2+?
    0.4mm brass nozzle as default, if you need other kind and size, please contact us about it.
2. What's the build size of dual extruder?
    Same as single extruder: 400x400x500mm.
3. Is it dangerous to leave the FormBot T-Rex 2+ unattended?
    It has thermal protection function, if over heating, it'll cut off power automatically. The heated bed can be controlled from gcode, by using the SSR addon sold separately (Contact us about it).


4. Does Free Shipping apply to all destinations?
*Free shipping excludes destinations considered as remote areas by the carrier.


5. Handling, Processing, Shipping and delay to Delivery:

Most 3D printers offered have a processing time to shipping date (lead time) between 4 to 6 work days, please note and plan accordingly.
Add to that the shipping delay (lead time) to delivery usually between 4 to 8 work days.